The Debut of TOTO Super Space in Beijing


Time: 2011.07.25
TOTO's clean technology is the combination of art and technology, and a nice green waltz dance. Following the Super Space in Guangzhou, Shanghai and other places, TOTO has established one more showroom in Beijing. TOTO Super Space in Beijing opens on July. 21st, 2011, and places at the address of No. 1, West District, 2000 Zhubang Business Center, Balizhuang Xili, Zhaoyang District, Beijing. The debut of TOTO Super Space in Beijing is significant. In addition to bring TOTO's intelligent bathroom suites to the public, TOTO has made use of innovative technologies to solve the problems of "water resource", "global warming" and "environmental pollution", and make their own contribution to the earth.

The Convergence of Technology and Strength
In TOTO's Super Space of Beijing, you can feel TOTO's strong R&D capabilities, high-level bathroom technologies and innovative product design. TOTO has always been committed to environmental protection. Since hundred years of historical heritage, TOTO has become a well-deserved smart bathroom expert. The Super Space will display TOTO's integrated products and advantages, provide real estate developers, designers, construction professionals, consumers with a full range of services, bring a different "Future Space" to you.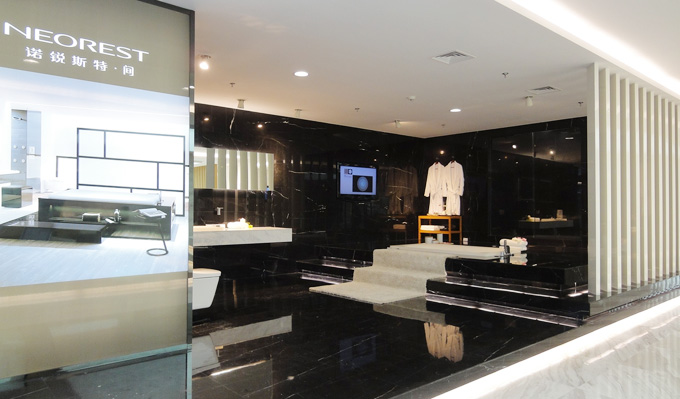 Visual Appeal of NEOREST Series
TOTO has been proud of the high-end products of NEOREST series. Simply, it is the integrated technologies of a perfect bathroom.
In NEOREST series, you can see the original material of "hi-crystal" everywhere. Products of this series give the entire bathroom space fashionable and modern luxury style. They also bring people unique visual appeal. People can enjoy the experience of "Pure and Nature".
It is easy to shape the unique translucent hi-crystal material, and the material can be created to beautiful and functional bathroom products. Compared to normal glass material, hi-crystal material of NEOREST products care more resistant to percussion. To ensure product durability, it is not easy to scratch.
Hi-crystal of NEOREST Series integrates TOTO's high-end technologies. In addition to the unique material, the products in the series have intelligent sensing technology, WASHLET technology, water saving technology and SMA technology. The high-end integrated technologies bring comfort and fantasy of enjoying the bathroom. One of the most attractive natures of the series products is the wall-hung smart toilet. TOTO's automatic sensing technology maximizes the artistic intelligence. When you approach the toilet, the stool lid will open automatically. When you finish using the toilet, it will automatically clean, deodorant, and close the lid.
To achieve water saving flush, the toilet will also intelligently identify the flush volumes of the water, and distinguish 3L and 4.8L flush volume automatically. Meanwhile, the excellent world-famous WASHLET will take you into the joy of washing. It is worth mentioning that the series of TOTO's bathtubs, washbasins, toilets etc., are widely praised by the industries, and has received IF and Red Dot International Design Awards.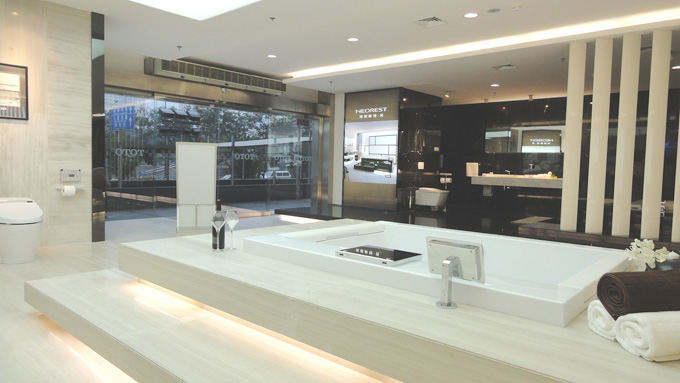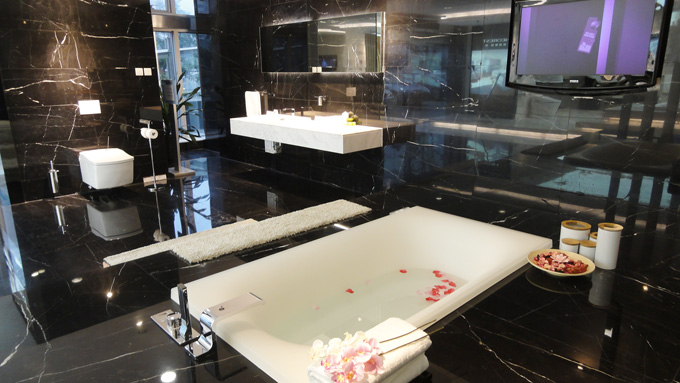 Combination of Technology and Design

TOTO makes many technologies on their products, and make great efforts on the design of their products. In one of TOTO's famous WASHLET products, TOTO has cooperated with the famous Italian genius designer "Stefano Giovannoni" to design a new WASHLET. Mr. Giovannoni has made a fantastic design of a new WASHLET for TOTO. This new WASHLET perfectly combines the intelligent technology and beautiful appearance together. It is called the masterpiece handed on from age to age.

Meanwhile, you can see the very latest design of TOTO's high-end faucets in the Super Space of Beijing. It is worth mentioning that the faucets series of NYPHEAS and ORIELS are distinctive. NYPHEAS Series shows Victorian architectural style. The bold use of noble gold of ORIEL Series highlights the noble and respect. Such as the ECOPOWER technology, you can see the intentions on both technology and design of TOTO's products.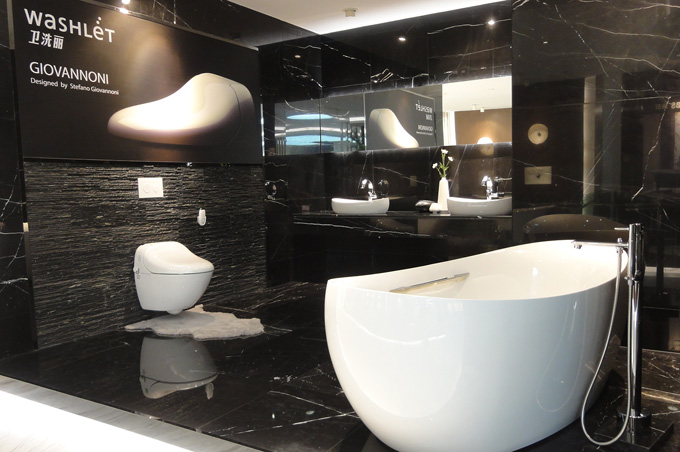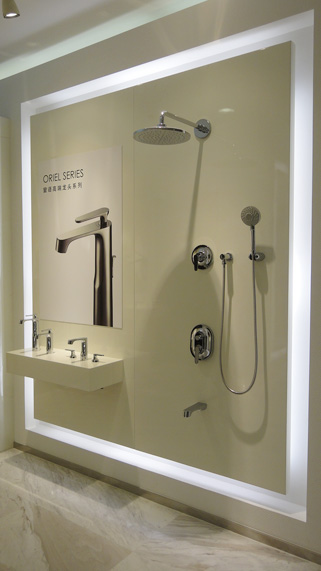 GREEN CHALLENGE

TOTO is always concerning about water saving and environmental protection all these years. GREEN CHALLENGE—the slogan of TOTO's environmental protection is also an important part for TOTO to advocate to solve the problem of water resources. For this purpose, TOTO launched a high efficient water flushing system called ECOMAX, and apply this intelligent system to the toilet. This flush system has a trinity of powerful features, outstanding ECOMAX water-saving performance, super strong TORNADO FLUSHING technology and intellectual CEFIONTECT clean technology. These 3 superior performances achieve a super water-saving system. Make the least play the greatest energy.
In addition, known as the "the breathing tile", TOTO's HYDROTECT products are capable of effectively breaking down organic matters because of their unique hydrophily and antibacterium. For all kinds of organic compounds can effectively be decompsed, make the persons away from harmful bacteria and miscellaneous bacteria. At the same time, HYDROTECT can also suppress air bacteria floating in the air. The unique organisms have very significant effect on eliminating peculiar smell and dirt.
TOTO is committed to innovating clean technology. This means more than enhancing personal cleanliness. It also leads to a cleaner, greener environment. TOTO's environmental friendly technology products make your life more comfortable and beautiful.
TOTO's clean technology is dedicated to bringing you the better life. Welcome to visit here.
customer service hotline: 800-820-9787 400-820-9787