Lead the new life of technology—the opening of TOTO's Hangzhou Flagship


Time: 2011.04.27
The opening event TOTO Hangzhou flagship has opened the curtain on Apr. 22, 2011. The General Manager of TOTO (China) Co., Ltd. Mr. Ablet and The President of Hangzhou Dongjian Mr. Chen Hangmin came to the spot and cut the ribbon for the flagship.


In surprise, TOTO has invited one Hong Kong film star Ms. Zhou Haimei to the ribbon-cutting site of Hangzhou Flagship, and she also did the lucky draw for the consumers on that date. In addition, TOTO has handed Hangzhou Dongjian Group to launch a vigorous, high-profile multi-opening promotion on the opening day. TOTO warmly invited the customers to bring guests to enjoy the experience of intelligent life.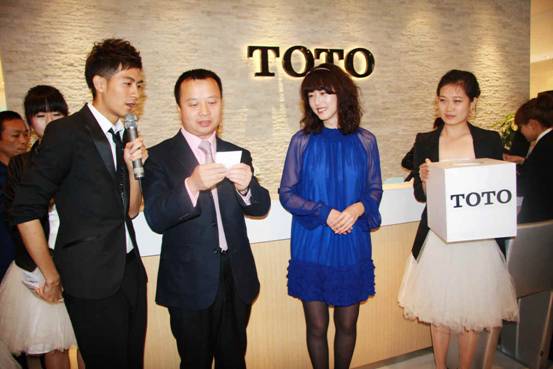 Located at Da Duhui, the Sixth Super Space in Binjiang District of Hangzhou, the flagship has an area of nearly 1500 square meters. It is the largest TOTO's showroom in Hangzhou. The new flagship in Hangzhou collects the most complete series products of TOTO, and it will provide consumers with intelligent bathroom and new environmental life style. The flagship of Hangzhou displays many high-end series products including the NEOREST series and the famous star product WASHLET. Meanwhile, you can also enjoy the eco life style that TOTO has brought to, such as the eco products 4.8L ECOMAX toilet, eco cap faucets and HYDROTECT tiles. These products are popular in various industries, and have been awarded the Contribution of Water-Saving Prize and Contribution of ECO Prize.


The full technology demonstration gives the consumers a director chance to know more about TOTO's products. Rich products can provide consumers with the perfect one-stop solution. TOTO's flagship in Hangzhou will become the best choice of consumers who are living in Hangzhou, Jiang Su and Zhe Jiang Provinces. The consumers will choose TOTO's products because of its ECO energy and intelligent technology.

In addition, with excellent design and quality, TOTO has always been in the leading position in the industry of the whole China market. TOTO has taken part in many famous projects such as Four Seasons Hotel in West Lake of Green City, Banyan Tree Hangzhou Hotel, Zhejiang Grand Hotel, Hangzhou Binjiang Sunshine Coast, the star of city of Hangzhou Binjiang, Hangzhou Vanke Xixi Butterfly Garden. These projects are all use TOTO's products.

TOTO is committed to long-term development in China. The flagship store in Hangzhou is just the beginning. The future of TOTO will continue to open more China's flagship stores. From TOTO's products, the consumers all over China can personally feel the environmental and intelligent life style. You can believe that TOTO's flagship in Hangzhou will set off an intelligent whirlwind, and gives this charming city new vigor.

Experience the smart bathroom life, welcome to Hangzhou TOTO flagship.
Address: No. 1088, the Sixth Avenue, Hangzhou Jiangnan Metropolitan, E Hall space
customer service hotline: 800-820-9787 400-820-9787