Fierce competition in Haikou——TOTO's sponsorship to 2013 World Ladies Golf Championship


Time: 2013.02.05
The Chinese golf player, FengShanShan who is now the world's fifth in the world, the Korean golf player, PiaoYingBi who ranked the world's fourth, The king of 2010 women's European tour, the South African golf player, Lee-Anne Pace and Anne-Lise Caudal in today's world women's high places top players converge Haikou Mission Hills. The Second World Ladies Golf Championship will be held in mission hills golf resort of Haikou on March 7-10, 2013. As the official sponsors, TOTO, the intelligent sanitary expert will pour its force on the top event.
The World Ladies Golf Championship Contest, which is the world-class competition, is built by the China Golf Association, the Mission Hills Group and the Women's Tour.
The competition integrated the Men's World Championships and the World Cup for the professional events, and its characteristic of format has the standard of Olympic community, fill the blank of the women's high places.
As a leading brand in the high-end bathroom areas, TOTO has been committed to supporting the development of sports in China, especially for representing a healthy, green, high quality of life of golf. The effort to sponsor "Mission Hills World star Invitational" in 2010. In 2011, its full support for the 56th Omega Mission Hills Golf World Cup, and set up includes three professional woman golf players of professional women's team, Zhang Na, Guo Caizhu, Yan Panpan. 2012 sponsored Mission Hills Golf Marathon Contest. Entering in 2013, TOTO continues to strongly support the top-level golf events, in addition to continue to sponsor the Mission Hills Golf Marathon Contest, as the official sponsor of the 2013 World Ladies Golf Championship, TOTO is to host the tournament, during the match, Mission Hills will also launch the first elite women charity tournament. The competition is aimed at gathering the charity love of golfing elite ladies in the industry for poor children in China. TOTO as the event's sponsor offers including gifts, all kinds of support. TOTO hopes that through these events sponsored, for China's golf fans show more high level of wonderful events, and promote the development of golf in China. Also injected into enterprise development contribute to the community, green and harmonious spirit of sports competition.
Women's event, competing in Haikou, March 7, 2013-10th, TOTO and you look forward to the world's top woman high golf collision.
In addition, TOTO will jointly cooperate with the Mission Hills on February 19-28, 2013, TOTO's Weibo interactive activities will take 10 lucky fans to get TOTO's exquisite products, please look forward to your participation.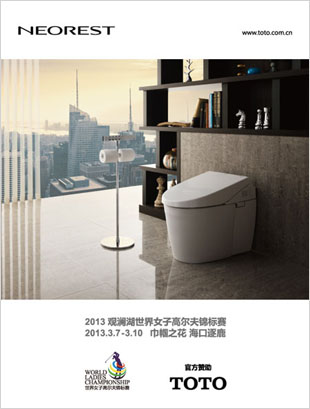 TOTO WEBIBO:http://weibo.com/totochina
MISSION HILLS WEIBO:http://weibo.com/missionhills
customer service hotline: 800-820-9787 400-820-9787