Heart to Heart and Hand in Hand—TOTO's Donation of RMB 0.5 million yuan for the Disaster Area of Yushu


Time: 2010.04.16
On April 14, 2010, an earthquake of M7.1 occurred in Yushu, Qinghai and has caused huge casualties up to now. After the earthquake, TOTO took actions immediately and donated RMB 0.5 million yuan for the Chinese Red Cross Foundation to convey its sympathy and solicitude to the people in the disaster areas.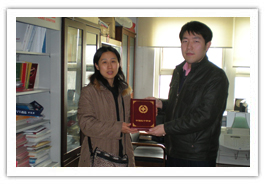 In this earthquake, Yushu in Qinghai suffered serious losses and the disaster situations affected the hearts of TOTO's staff at every moment. As a multinational company which has successfully developed for over ten years in China, TOTO always tries its best to perform its social responsibilities and initiate donating activities in various manners to assist the people in the disaster areas in the earthquake relief work.

We are connected to the people in Yushu by heart to heart and hand in hand, though we cannot go to the disaster areas to rescue the wounded and help the victims, and though we cannot share the sufferings of the people in the disaster areas, we firmly believe that mutual care and progress hand in hand are the sole choices for us in front of the disaster. TOTO will perform the social responsibilities of the enterprise and reach out our hands and contribute our love to sending help and assistance for the people in the disaster areas and beating the difficulties together with them.
customer service hotline: 800-820-9787 400-820-9787