Presenting the Dream of the Future City


Time: 2010.04.30
TOTO Entered into the World Expo "Shanghai•Eco-House"
This is a comprehensive block which imitates several functions such as the city life, work, relaxation and traffic. What is presented here is human's complete dream of the future cities. In the fourth storey of Eco-House, TOTO presents the future bath trends of intelligence, environment-friendliness and humanity to the viewers from the whole world. In "Shanghai•Eco-House", you will see the exhibition area of NEOREST·HI-CRYSTAL which brings you a beautiful visual journey, the exhibition area of the humanistic house for the old which brings the whole family comfortable experience, and the public area which aims for environmental protection and energy conservation.


Leading the Future and Experiencing Intelligent Bath Life
In the exhibition area of NEOREST·HI-CRYSTAL, TOTO presents the future intelligent bath life to you by using the most advanced technologies. The flush of toilets, the open-close of toilet covers, the water outlet of faucets…, all are intelligent without using your hands. Because of using the unique HI-CRYSTAL material, the whole space shows the unique visual glamour by the effect of the interlaced light and shadow. The showers adopting the Gyrostream technology can alleviate muscle fatigue, speed up your blood circulation and bring you incomparable sensory enjoyment besides meeting your most basic cleansing requirements.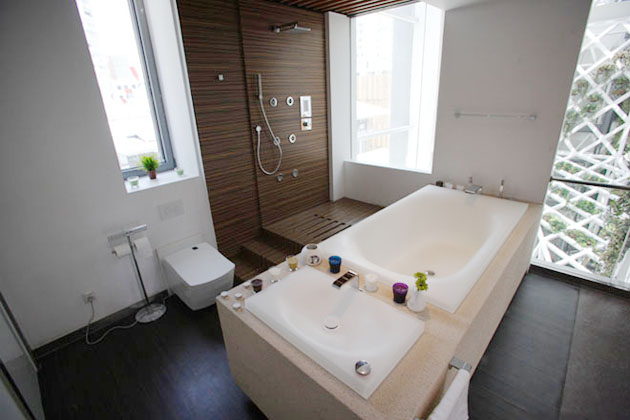 The House for the Old—The Ideal Place Full of Humane Care
In the house for the old, TOTO presents a number of considerate products full of humane care such as the auxiliary raising device helping the old rise after using toilets, WASHLET bringing you more care with a number of functions such as warm water cleansing and thermal toilet covers, and the auxiliary devices of bathtubs and the auxiliary bathing devices helping the clumsy people complete bathing and cleaning, etc. These products provide more considerate care for the old with easy operation and humanistic design.
Improving Life and Environment
TOTO always devotes itself to making the least water the most effective. The triune performances of TORNADO, CEFIONTECH and EcoMAC realize the ultra-strong water conservation of TOTO's toilets. TOTO's faucets perform the routine operation by converting hydroenergy into electric energy with the application of the technology of ECOPOWER. The urinal, with the technology of intelligent fuzzy control, can control the flushing volume automatically and perform intelligent flush according to the urination frequency and volume. The specially matching ceramic tiles of HYDROTECT PUS series have the effects of antibiosis, stain resistance and deodorization. The unique resolution effect on organics of this kind of ceramic tile can effectively resolve the mixed bacteria in the air and has extremely remarkable effects of deodorization and stain cleaning.
Welcome to experience the future intelligent and environment-friendly bath life.
Address: TOTO exhibition area, the fourth storey of "Shanghai•Eco-House", the Urban Best Practices Area in the Expo Site
customer service hotline: 800-820-9787 400-820-9787