The 14th China International Kitchen & Bath facilities Exhibition


Time: 2009.06.03
The China International Kitchen & Bath facilities Exhibition hosted every year is undoubtedly the most splendid industrial pageant in the Chinese bath field. As the leading enterprise in the bath field, TOTO brought the bath trends as synchronous as the world trends and provided bath classics for the whole world.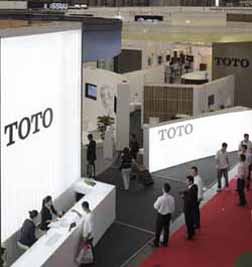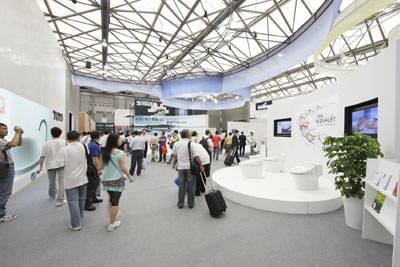 NEOREST Brand-new Recreational Mode


HI-CRYSTAL series of NEOREST displays the visual beauty between the light and shadow. Besides applying the cutting-edge technologies as WASHLET, TORNADO and CEFIONTECH, it especially uses TOTO's unique "HI-CRYSTAL" material with a transparent and clear profile like crystals and strong performances of high temperature resistance and plasticity. It is light but solid. Under the effect of "HI-CRYSTAL", the product is perfectly integrated into the whole space.


In the NEOREST·Ma series exhibited this time, there were a lot of newly-invented products with applications of many TOTO's new technologies. The shower bath system can fully release the vitalities of water, cause rich sensory stimulations on your skin surface and alleviate muscle fatigue by adopting TOTO's unique "GYROSTREAM" technology.


The special "MASSAGE" technology is applied to the NEOREST bathtubs. The unique massage feeling makes you feel as if the professional massagists were doing massage for you.


Promoting the Global Consumers' Bath Qualities WASHLET


From the first generation of WASHLET products only with water cleaning function to the seventh generation with multiple functions as warm water cleansing, thermal toilet covers, warm air drying, intelligent deodorization, etc, TOTO, as the inventor of WASHLET products, has always embarked on innovation and R & D in the past 29 years. Its every technological innovation brought along with a breakthrough in the industry.


ECO Area

4.2 L Water-saving Toilets


The most environment-friendly star products in this exhibition were TOTO's newest water-saving toilets, 4.2 L EcoMAX water-saving toilets, which renovated the industry benchmark. Compared to 6 L toilets, 4.2 L flush toilets can save 1.8 L water with the water conservation rate of 30%. TOTO's 4.2 L water-saving toilets can realize strong flush while guaranteeing the effects of water conservation by applying EcoMAX, "TORNADO" flushing and easy-cleaning "CEFIONTECH" technologies.