Promote to China's Golf Development


Time: 2011.11.24
--The Press Conference held for the cooperation of TOTO (China) Co., Ltd. and Beijng Minguan Jingsheng Golf Club
The Press Conference held for the cooperation of TOTO (China) Co., Ltd. and Beijng Minguan Jingsheng Golf Club in Beijing on Nov. 16, 2011.

Hu Bin, the chairman of North High Association Competition Committee, related media reporter and golf enthusiasts attend the conference. On the press Conference, TOTO has formally signed two female Golf Players named Guo caizhu, Yan Pan-Pan.

Guo caizhu, Yan Pan-pan are the current representatives of the Chinese new generation Golf Player. These two golf players have outstanding performances in the tournament such as Hong Kong Professional Contest, CLPGA Contest, Eurasian Woman Contest. TOTO as the sponsor this time hopes to provide them better help and support for their training and competition, and encourage the two Chinese players to achieve better results in national and international stages.

The reason for liking the elegant sports of golf is the challenge presented by golf sporting and the pursuit of perfection, and TOTO's positive brand image has the same spirit with Golf's. As the leadership in the high-end bathroom industry, TOTO has consistently supported the development of golf. TOTO has sponsored to "Mission Hills World Cup" last year. This year TOTO continues to be the sponsors of the 56th OMEGA Mission Hills World Cup of golf.

The cooperation with Beijng Minguan Jingsheng Golf Club is one important step for TOTO to support China's golf development. TOTO hopes that China will bring up more and more outstanding golf players. In the future, TOTO will continue to strive to promote the development of golf in China.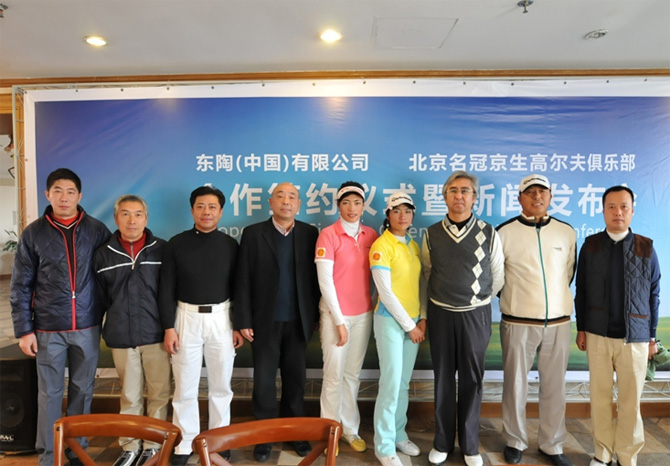 customer service hotline: 800-820-9787 400-820-9787