Aim to encourage the growth of outstanding university students
TOTO Water Environment Fund university scholarship awards ceremony held in Shanghai University


Time: 2014.04.09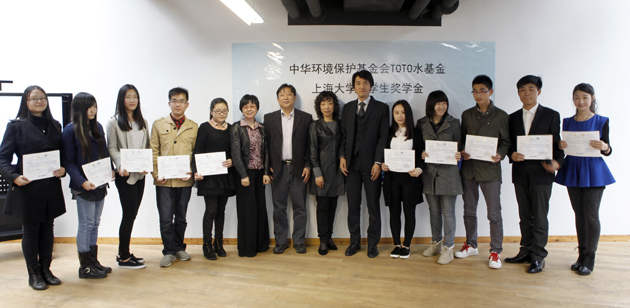 In order to motivate the university students to pursue for their knowledge and progressiveness, as well as to create a better learning environment for them, China Environmental Protection Foundation TOTO Water Environment Fund has specifically set up a TOTO scholarship for those outstanding Shanghai University students.2013-2014 the China Environmental Protection Foundation TOTO Water Environment Fund Shanghai University Students Scholarship award ceremony was held in Shanghai University on March, 28th, 2014. Ten outstanding students from Architecture department, Design department and Sculpture department won this award named after TOTO.
Shanghai University, with rich history and cultural heritage, was established in 1922. Shanghai University has been dedicated itself in cultivating compound talents with specialty, capability and knowledge for different industries and achieves fruitful results. TOTO specifically chooses Shanghai University, which is filled with vigorous energy and historical stories, to set up TOTO scholarship, aims to help those students from economically disadvantaged families to successfully complete their studies and solve their life burdens. TOTO scholarship creates a better learning atmosphere for those students and helps them fulfill their dreams. Meanwhile, the another aim for TOTO to provide The reason why TOTO provides the scholarship with these outstanding students lies in transmitting the concept of water-saving and environment protection to those will-be society backbones, so the students will be able to concern the water environment during their student period and enhance their environmental awareness. TOTO Water Fund will continue to assist these outstanding students with good academic performance. Meanwhile, TOTO expects more and more university communities could actively involve in these public activities.
China Environmental Protection Foundation TOTO Water Environment Fund was established in 2008. It has been involved in funding and supporting in various public activities, including water-saving creative posters contest, water-saving technology selection, water-saving technology seminars, and water-saving propagandas. etc. At the same time, TOTO has supported many water projects construction in dry and poor area, such as the water resource construction and protection in Alashan Right Banner Bayan gol village in Inner Mongolia Autonomous Region and water centralized supply and water resource protection in Yiwu County in Xinjiang. In the future, The China Environmental Protection Foundation--TOTO water environment fund will carry out more relevant activities to encourage people to protect our water resources.
customer service hotline: 800-820-9787 400-820-9787